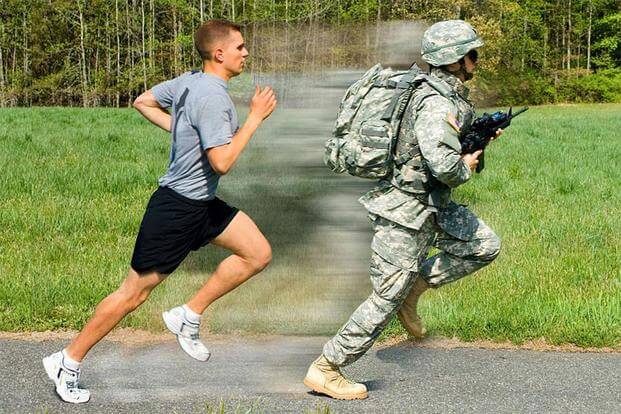 Army Times is reporting that it is creating a new Army Combat Fitness Test with the assistance of occupational therapists, physical therapists, registered dietitians, and strength and conditioning coaches.
Traditional army fitness training has concentrated on the arms and chest areas. According to Command Sgt. Maj. Edward Mitchell, when modern soldiers are sent to the front line they are expected to carry up to 200 pounds of equipment. The army's current training regimen does not emphasize the kind of core, abdominal, and back strengthening that this load requires. As a result, 18% of the available forces are not deployable, due to musculoskeletal injuries.
The new training plan aims to correct that. It was rolled out last month and is being given a test run by 60 battalions. Some of those are working in conjunction with different fitness professionals to determine what kind of professional support future soldiers will need in order to safely pass the new fitness criteria.
The idea is to create a centralized, universal fitness standard, rather than leaving it up to each individual commander to determine what exercises will work for her or his group, as has been the case in the past. In order to do that, the army will need to build more fitness centers with new equipment.
"Ideally, over the next decade, the army hopes to build Soldier Performance Readiness Centers, complete with an ACFT field, a terrain run park and facilities to practice with weights, kettle bells and medicine balls. Those centers will also have experts on site to support soldiers in a diet and exercise plan."
"When the army was piloting two separate PT test ideas, troops…were given different levels of equipment and professional staff to get them ready. Not surprisingly, the units with a full complement of equipment and fitness experts fared the best…They've staffed registered dietitians, occupational therapists, physical therapists and strength and conditioning coaches in those 30 battalions."
The military is a top->down organization. In order to ensure that these new fitness standards become part of the culture "a soldier will learn the basics of healthy behaviors and movement in their basic training or basic officer courses, then work their way up. Exercise science will be part of the curriculum at the Basic Leader Course for future sergeants, while officers at the Pre-Command Course will learn to plan, budget and assess their own programs."
If you'd like to learn more about physical therapy or physical therapy continuing education classes, please visit CEU Market.
image courtesy of military.com